The age long rivalry that exists between The Reds and The Gunners is legendary.
Today at Old Tradfford, old enemies meet again. It sure would be a big clash.
Tension and fever is in the air, with many wandering who will gain the day.
With Theo Walcott and Alex OxladeChamberlain out injured, the North London outfit lack width. When they lose possession, the space in front of the wing-backs is left exposed, and Antonio Valencia on the right—and either Shinji Kagawa, Nani, Adnan Januzaj or Ashley Young on the left—have the pace and talent to exploit that space.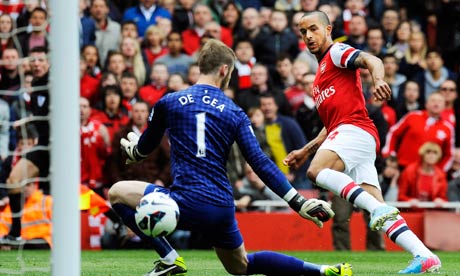 Walcott vs De Gea
In Arsenal's 1-0 win over Spurs in the North London derby, the space in this area was clearly evident, but their rivals failed to take advantage.
Valencia, and whoever lines up on the left, will be able to service both Robin van Persie and Wayne Rooney up front. And when that pair get the ball in front of goal, there's usually just one outcome.
If United can soak up Arsenal's attacks and counter-attack efficiently, then they could come away with all three points.
What's your predictions?