AC Milan's Kaka (L) challenges Barcelona's Sergio Busquets during their Champions League soccer match at the San Siro stadium in Milan, October 22, 2013. REUTERS/Stefano Rellandini
AC Milan 1-1 Barcelona
The match was played in Stadio Giuseppe Meazza — Milano
The center referee was: Referee:‬ F. Brych.
Ronbinho scored an early goal, 9 minutes into the game, the goal that was assisted by Kaka.
Lionel Messi replied in the 24 minutes of the game, robbing the host of their win at home.
FC Schalke 04 0 vs 3 Chelsea Fc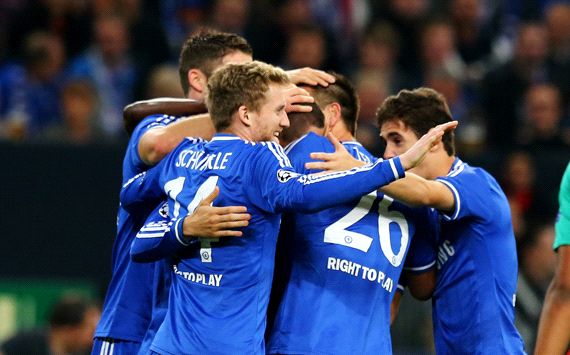 Venue: Veltins-Arena — Gelsenkirchen
Referee:‬ V. Kassai
Fernando Torres scored an early goal for the Blues. Pressure kept mounting, and tension heightened on the both side, but the host weren't so lucky, as Fernando Torres aided by Oscar, scored his second goal for Chelsea. Eden Hazard netted the third goal for the visitors.
Arsenal Fc 1 vs 2 Borussia Dortmund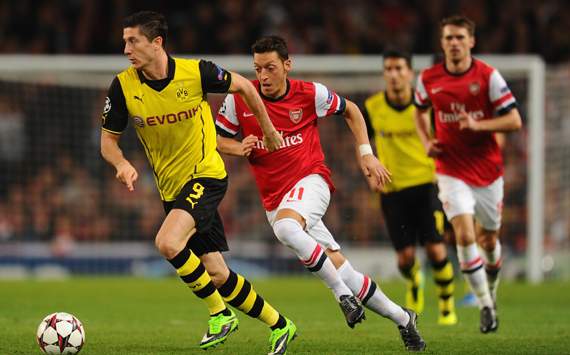 Henrikh Mkhitaryan goal gave the visiting Borussia Dortmund a lead at Emirate's stadium against the host. But Olivier Giroud's 41st minutes goal thwarted the visitors celebration, brought the game to a draw. One can say that Dortmund really meant to steal joy away from the Gunners fans as Robert Lewandowski scored the second goal for Borussia Dortmund. You could see real sorrow in the Gunners fan faces, because they brought their guns, but their guns refused to shoot. It jammed on them some how.
Celtic 2-1 Ajax
Celtic defeated Ajax at their home 2-1